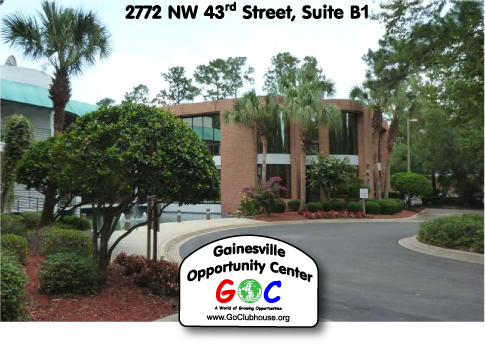 Open 9:00-5:00 M-W-Th-F | Lunch at noon | Bus Route 43
Phone 224-5523
An Evening
with Rosalynn Carter
will be held at
5:30pm on Tuesday March 31, 2015
at the Samuel P. Harn Museum
Tickets are $150.00 each
Contact Pam Demers at (352) 224-5523 or via email at pamela.demers@goclubhouse.org.
Proceeds from the event will be used to support the members of Gainesville Opportunity Center in their journey to recovery.
The National Association of Mental Illness will be hosting a series of book discussions around Gainesville throughout the month of March focused on Rosalynn Carter's Within Our Reach: Ending the Mental Health Crisis. Click here for more information on these community book reads.
Download the Event Flyer (PDF)
Who We Are
We are a community-partnership program where people whose lives have been drastically interrupted by a major mental illness come voluntarily to rebuild their lives.
This successful evidence-based model helps people with mental illnesses stay out of hospitals to achieve dreams goals of social, financial, educational, and vocational independence.

Person-Centered Acceptance, Dignity, Social Inclusion, Recovery

Meaningful work with stable, competitive employment

Community engagement

Reduces stigma and discrimination
Restorative environment emphasizing abilities & talents
Access to services, supports, housing
Meaningful relationships
Grounded in internationally-proven model

Watch Video Description of Gainesville Opportunity Center